Frenvi is an Indian start-up with its head office located in Bangalore, India, and a production facility in India. Frenvi is a green-tech start-up, focusing on plastic waste reduction by producing zero waste disposable tableware for the food service packaging sector. Frenvi replaces cutleries with EATlery® made from natural food ingredients and conducts research on Circular-Bioeconomy approaches to upcycle bio-residues from the food and beverage industries to produce other disposable tableware.
Innovative R&D Collaborations:
Frenvi actively collaborates with Food & Beverage industry leaders in Germany and India. Research and Development initiatives target waste reduction by transforming biomass, culminating in novel zero-waste tableware products and sustainable packaging solutions.
Market Challenge and Solution:
The global disposable tableware market's worth of $29.7 billion and a 4% annual growth rate contribute to escalating plastic pollution. Frenvi addresses this concern through robust research, technology, and mass production capabilities, offering EATlery® products that meet internationally recognized quality standards. These eco-friendly alternatives are embraced across Europe, Australia, the United States, Canada, the Middle East, and the UK, mitigating plastic waste.
Scalable Production Excellence:
Frenvi's Indian headquarters boasts a scalable full-scale EATlery® mass production facility, pioneering a novel production process. EATlery® items are meticulously crafted with adherence to the highest food safety standards—FSSC 22000 and FSSAI—ensuring global acceptance across regions due to rigorous quality control measures.
We value our clients and strive to provide the best customer service experience.
At FRENVI, we are committed to delivering exceptional quality in all our services. Our dedicated team goes above and beyond to ensure excellence in every aspect of our work.
EATlery® – Tasty not wasty
EATlery® is made from a novel and sophisticated recipe consisting of natural and renewable raw materials. The raw materials are composed of a balanced mixture of grains, which are processed and baked with much love by FRENVI.
A new patented production process helps us to achieve the perfect balance of functionality, stability and excellent taste to perform as a cutlery as well as a biscuit.
Frenvi Private Limited is a production unit located in the hi-tech city of Bangalore, India. This facility houses the pilot production machines and technology for mass manufacture of edible cutleries. With intensive research for more than 2 years, Frenvi has developed a mass manufacturing process, for which patents have been applied in several regions.
This technology enables Frenvi to offer up to 60 million units annually, in the pilot phase. The production technology focusses on cutting edge automation and robotic technologies making the production process resource efficient. Frenvi's technology-efficient process, reduces human-intervention in food handling in the production process, ensuring the food and hygiene factors the top priority.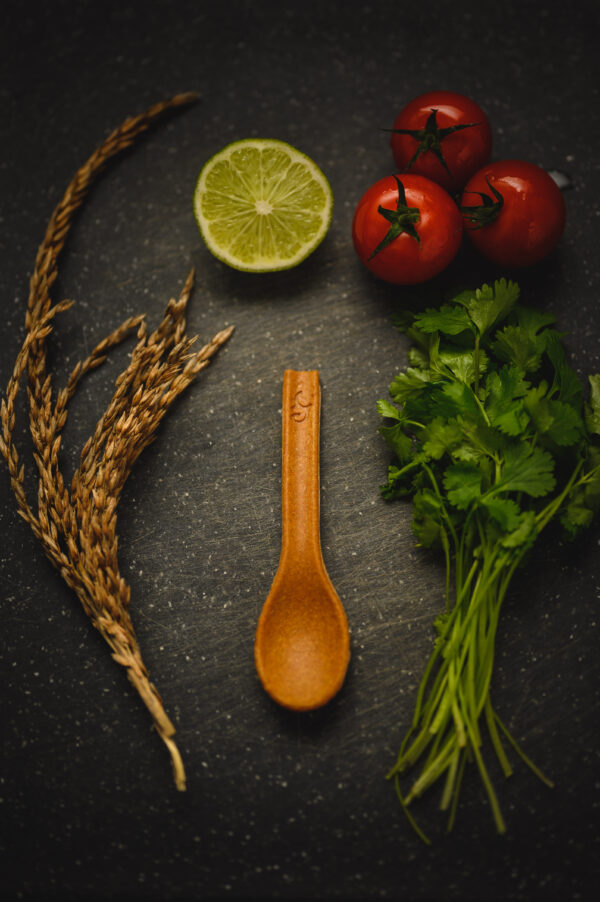 Get in touch for any kind of help and informations
We're glad to discuss your organisation's situation. So please contact us via the details below, or enter your request.
Frenvi Private Limited
No.444, 1st floor, 4th cross,8-B Main, 5 stage, BEML Layout Rajarageshwari Nagar, Bangalore - 560098, India